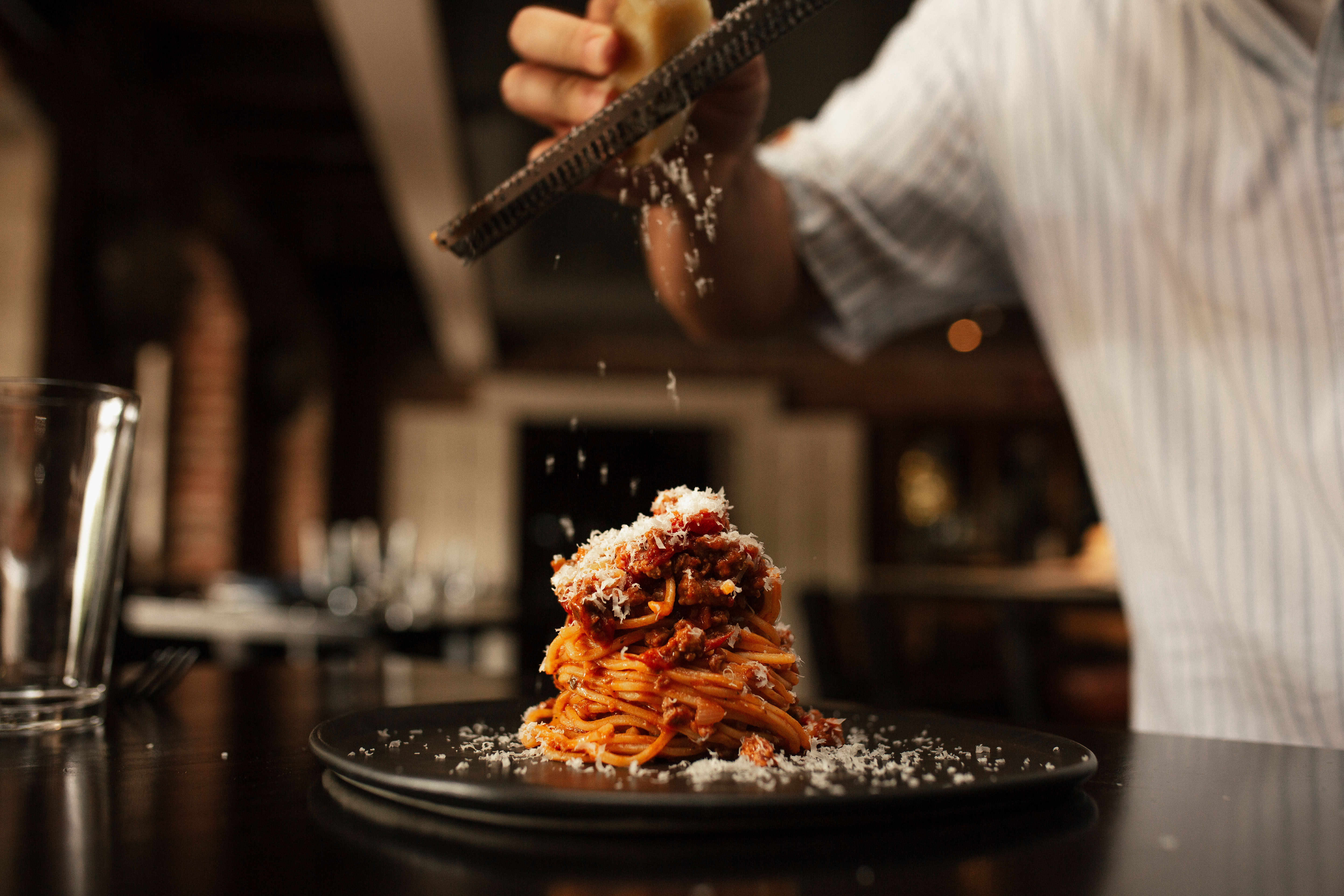 For Parties of 12 or More, Please See Our Limited Menu
Dinner Menu
INSALATE
SFIZZIOSA: Oven Roasted Beets, Fennel, Mix Greens, Segmented Oranges, Walnut, Citronette Dressing. 13
BURRATA: Organic Arugula, Roasted Bell Peppers, Roasted Tomato, Olives, Burrata Cheese, Balsamic Dressing 14
ANTIPASTI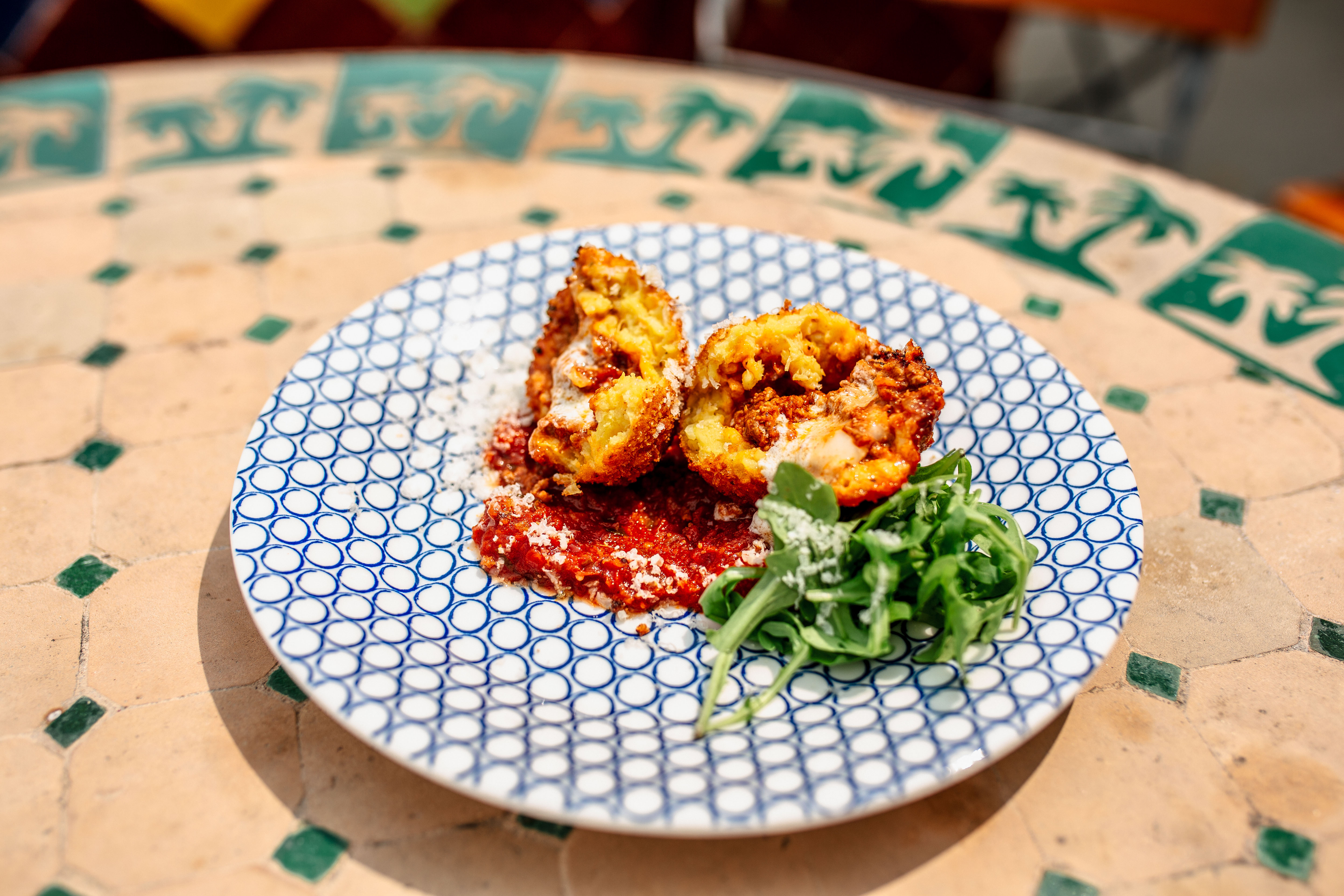 BREAD BASKET: Small loaf of bread with olive oil. 6
TAGLIERE: (Feeds four) Prosciutto, Salame, Coppa, Gorganzola (Cow), Caciocavallo (Cow), Pecorino (Sheep),  Cured Olives. 28
ARANCINI SICILIANI: Deep Fried Rice Balls, Taleggio, Bolognese, House Salsa. 13
FRITTO MISTO:  Deep Fried Calamari, Pickles, Peppers, with a House-Made Remoulade.  16
POLPO: Mediterranean Octopus, Fresh Chickpeas Tomatoes Insalata. 17
PINSA/PIZZA ALLA ROMANA
Multiple Flour New Style Light Pizza
PEPPERONI: San Marzano sauce Caramelized Onions, Pepperoni, and Mozzarella. 21
MULINO: San Marzano sauce, Arugula, Mozzarella, Prosciutto, Organic Baked Egg. 21
PESTO CHICKEN: San Marzano, Pesto Chicken Rotisserie, Mozzarella, Spinach, and Olives. 21
BOSCAIOLA: Cremini Mushroom, House-Made Beef, and Pork Sausage, Mozzarella. 21
MARGHERITA: Fresh Cherry Tomatoes, Mozzarella, Fresh Basil. 20
QUATTRO FROMAGGI: Tomato Sauce, Taleggio, Gorgonzola Agrodolce, Mozzarella, Sotto Cenere. 21
The chef requests that there be no substitution
PASTA & RISOTTO
All fresh pasta is made in house with local and organic Lindley mill flour and organic eggs 
PICCI Amatriciana: San Marzano Tomato, Onion, Italian Pancetta, Chili, 36 Month Aged Parmigiano Reggiano. 19
TONARELLO Carbonara: Organic Eggs, Italian Guanciale, Black Peppercorn, 36 Month Aged Parmigiano Reggiano. 19
RAVIOLI: Lobster and Ricotta, Handmade Ravioli, Saffron Lobster Fumet. 27
TAGLIATELLE Bolognese: Fresh Pasta, Beef and Pork Ragu, 36 Month Aged Parmigiano Reggiano. 20
GNOCCHI Tartufo: Handmade Potato Dumplings, Umbrian Black Truffle, Parmigiano Crema. 20
LASAGNA: Fresh Pasta, Beef and Pork Ragu, Bechamel, 36 Month Aged Parmigiano Reggiano. 18
RAVIOLI: Smoked Eggplant, Sun-Dried Tomatoes, Ricotta, San Marzano Reggiano Sauce. 18
RISOTTO DEL GIORNO: Spring and Summer Risotto of the Day. 22
CARNE & PESCE
From our patio wood-burning oven
AGNELLO: Slow Braised Lamb Shank, Fregula Pasta, Gremolata Sauce. 34
PASTA AI FRUTTI DI MARE: Choice of Pasta (Squid Ink or Linguini), Clams, Shrimp, Scallops, Seafood Bisque. 28
POLLO: Organic Half Chicken, Mushroom and Wine Sauce, Rosemary Potatoes. 28
*MANZO: Chef's cut, Mushroom and Wine Sauce, Rosemary Potatoes. MP
PESCE DEL GIORNO: Fish of the Day. MP (MARKET AVAILABILITY)
CONTORNI $10
Roasted Potatoes Rosemary Oil | Mushrooms with Butter and Pesto | Zucchini Italian Herbs
DOLCI $10
TIRAMISU: Made in house
AFFOGATO: Vanilla gelato, espresso
CHOCOLATE TARTUFO: Hazelnut Semifredo, Strawberry
CANNOLI: Made in house
LEMON TARTUFO: Lemon Semifredo, Lemon  Sabayon
CRÈME BRULEE: Classic, Made in House
CAFFE & TEA $4
ESPRESSSO
DECAF
CAPPUCCINO
AMERICANO
SHAKERATO
CORTADO
HERBAL TEA SELECTION
DIGESTIVI $10
MONTENEGRO: Blend of 40 botanical ingredients
FERNET: Bitter aromatic spirits
LIMONCELLO: House made lemon liqueur
GRAPPA: Grape blend, pomace brandy
SAMBUCA: Black or white
VINI DOLCI $12
RAINA Vermouth: Intense, harmonic, and round spiced wine, with perfumes of rhubarb, balsamic herbs, and citrus zests.
Grillodoro: Sweet dessert wine, intense floral notes, long finish.
Due to COVID-19 restrictions, tables are assigned a ninety-minute window. To accommodate other guests safely, please respect the time window during this difficult time.
Consuming raw or undercooked meat, fish or egg increases your risk of food borne illness. Gluten-free, vegetarian and vegan options available upon request.

Parties of 12 or more are required to pay on one check.
18% gratuity will apply to parties of 6 or more.
Cake cutting fee of $2.50 per person. Corkage fees $35 ONE BOTTLE PER TABLE ONLY.